MIS:GUN
MIS:GUN
Gun
Ride the Gun as a classic semi-gun or extension of your normal board with slight increases in standard dimensions to paddle you in to big days at your home break or the odd shoot over to Grajagan.
Note: Rail spray in image not included, select in Artwork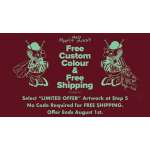 SPECIFICATIONS
---
---
Rocker Info
Standard gun rocker
Concave Info
Vee - slight double vee - vee
from $

850
From
The Gun handles outer banks, deep reefs and big wave spots across the Pacific. As the name suggests, high volume guns carry exaggerated volume for incredible paddle power but also allow riders to surf spots once only surfed on massive lengths or ski-assisted tow boards.
"You're reviewing
Gun
---
You Must be Logged in to Write a Review
Review by
Age: | Height:cm | Weight:kg | skill:
---
Shop This Model