MIS:FANGVAR
MIS:FANGVAR
Fang Variation
The Fang Variation carries a lot more width than its predecessor, the FANG, it also runs a different bottom curve, which gives the board lift, pivot and release in smaller conditions. This board is a lot of fun, it surfs how you imagine it would, effortless rail-to-rail, glide but hold and control when it counts!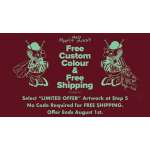 SPECIFICATIONS
---
---
Concave Info
Single - double - vee
from $

850
From
The Fang Variation is suited to that of a mid-range wave board, but the original plan-shape was drawn from the FANG and like the fang's ability to position itself in critical parts of the wave, this board is also designed to hug the curve but surf across a wider range of conditions and overall be more playful.
"You're reviewing
Fang Variation
---
You Must be Logged in to Write a Review
Review by
Age: | Height:cm | Weight:kg | skill:
---
Shop This Model