Surfing is forever evolving. Now with the introduction of wave pools, the envelope has been pushed out even further. So what does the future of surfing look like? Well for starters, everyone is going to get a lot better at surfing.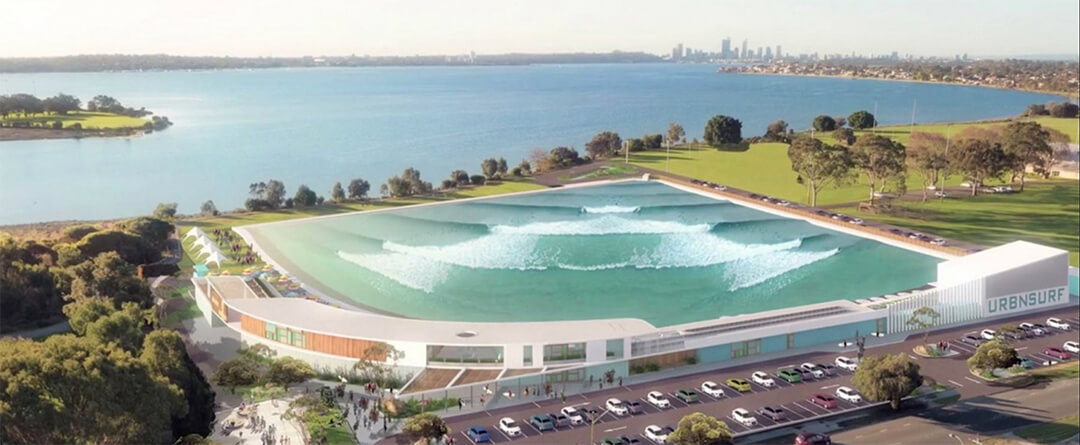 The proposed URBNSURF Melbourne facility
Chippa Wilson said it after the Stab High Contest in Texas
"Kids are going to be doing massive airs on surfboards who have never seen the beach before".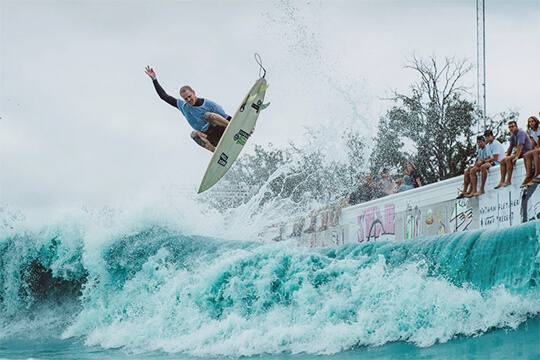 Waves at the beach will probably be referred to as "free waves" as in it doesn't cost money to surf them. But on a positive note the abundance of wave pools could potentially dilute the crowds. Plonk a perfect wave in the middle of nowhere and people will likely move their whole families. If there's one thing we do know it's their popularity is certain, which is why every man and their surfing ambassador is jumping onboard with their own design.
What different types of Wave Pools are there?
There are 4 major wave pool designs that have emerged since 2005. However there is still no clear winner. We've taken the liberty to dig up the facts and statistics about each man-made wave so that we can better compare them. Within the next 5 years it's likely that everyone who reads this article will at least had the opportunity to ride one of the below wave designs and that's exciting.
WaveGarden Cove. Basque Country, Spain.
Wavegarden were the first wave pool company to market. What started in Northern Spain has now spread to several global locations including Australia, South Korea, Switzerland, Brazil and the UK. Wavegarden has been experimenting with man-made waves since 2005. Due to this, their design history varies with the final, most advanced version being dubbed The Cove Technology. The Cove uses a what they call modules to pump energy into the wave as it travels down The Cove. By doing this they are replicating a ground swell type wave with little energy loss and plenty of power for the surfer to play with. The Melbourne location is called URBNSURF Melbourne.
Wavegarden Cove Stats:
Waves per hour - 1000
Types of waves - 4
Largest wave - Approx 6ft
Max Surfers at once - Depending on wave type
Surfing Ambassador - Multiple
Wave Engineer - Team of 30 existing Engineers
WSL Wave Ranch. Lemoore - California, USA
Formerly owned by the Kelly Slater Wave Company the long barreling wave is powered by a train like cart that pulls a large hydrofoil at speeds of 30 km/hr down a 680m long pool. Alike most wave pools how the wave forms relies on the level and gradient of the ground below.
WSL Wave Ranch Stats
Waves per hour - 20
Types of waves - 1
Largest wave - Approx 6ft
Max Surfers at once - 2
Surfing Ambassador - Kelly Slater
Wave Engineer - Adam Fincham
Texas Wave Pool, (BSR Cable Park) Waco - Texas, USA.
The Waco Wave Pool is a true freak of nature because everything is so well hidden. Created by AWM (American Wave Machines) and labeled PerfectSwell Technology. This tech can generate infinite types of waves by firing off it's range of 10ft wide air chambers in unique sequences. For this type of wave pool the possibilities are endless which is why it has become so popular in the world of aerial surfing.
Texas Wave Pool Stats
Waves per hour - 150
Types of waves - Infinite
Largest wave - Approx 6ft
Max Surfers at once - 9
Surfing Ambassador - Jamie O'brien
Wave Engineer - Cheyne Magnussen
Surf Lakes, Yeppoon QLD, Australia.
Surf Lakes is totally different again, introducing a "5 Wave technology" that is able to create 5 different levels of waves from beginner to advanced simultaneously around a circular lake. The final version or full capacity of this design is projected to cater for up to 240 people in one session, which from a commercial standpoint is hard to beat.
Surf Lakes Stats
Waves per hour - 2,400
(Full Capacity Version)
Types of waves - 5
Largest wave - Approx 8ft
(Full Capacity Version)
Max Surfers at once - 240
(Full Capacity Version)
Surfing Ambassador - Mark Occhilupo
Wave Engineer - Chris Hawley
What Wave Pool design is the best?
That depends on what type of waves you like to surf. The flawless tubes of WSL Wave Ranch look pretty enticing as does going for broke on a Waco ramp. Let's break it down via the stats.
Largest Wave
Surf Lakes have reportedly produced an 8ft slab named "The Island" potentially after the infamous reef slab at Shark Island on the NSW coast of Australia.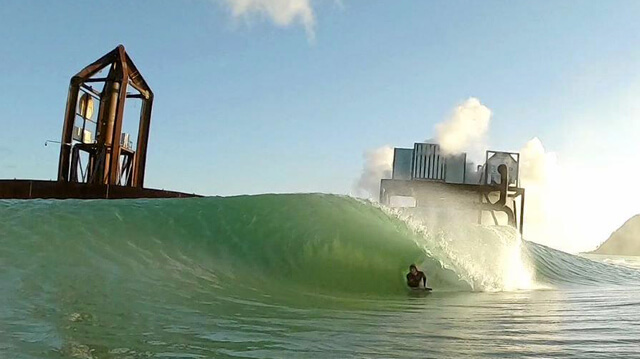 Bodyboarder Ben Player under the lip of the infamous Island Slab prototype.
Best for Airs.
The Texas Wave Pool, given it's infinite ability to create perfect ramp sections. Proven by the best free surfers in the world during the STAB High contests.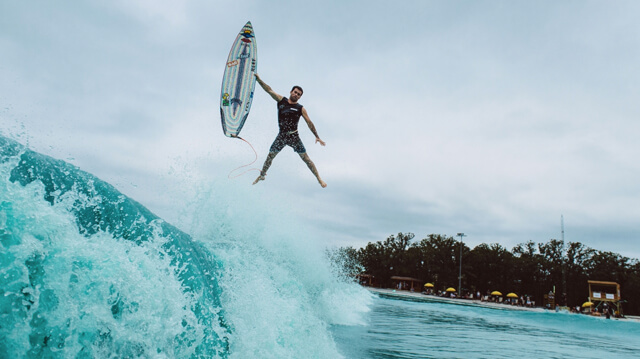 Mason Ho with a huge christ air during the 2018 STAB High Contest in Texas.
Longest Tube.
The hollow, near 1 minute long tube of the WSL Wave Ranch is so far the winner. But the proposed Wavegarden Coves are going to be close rivals.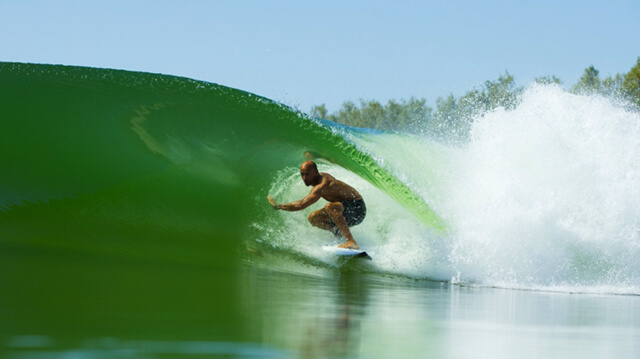 Kelly Slater stalling in his magical barrel factory.
Most Waves Per Hour & Surfers At Once.
Surf Lakes if it can deliver their full scale version promoting a massive 2,400 Waves per hour for 240 surfers in the man-made lake.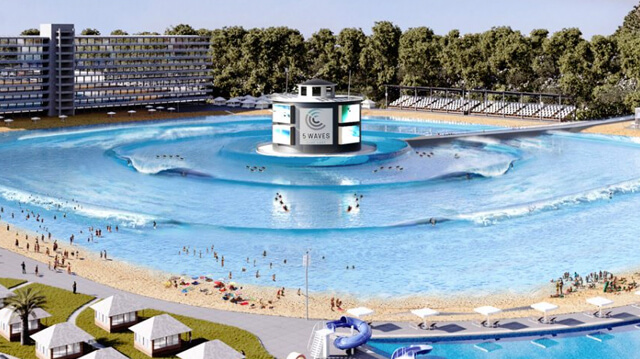 3D render of the proposed full capacity Surf Lakes facility.
Best Wave Pool Tech.
It's pretty hard to lock it down to one and again it's going to come down to your preference in wave type. The Wavegarden Cove technology is essentially a combination of the WSL Wave Ranch and the Texas Wave Pools - Perfect Swell Technology. Using modules comparable to the air chambers of Waco, to push a wave out that's more similar in style to the one at Lemoore. But what makes this maybe the best tech overall is the aesthetics of the pool itself with no giant train or plunger visible, just a pool filled with crystal clear water.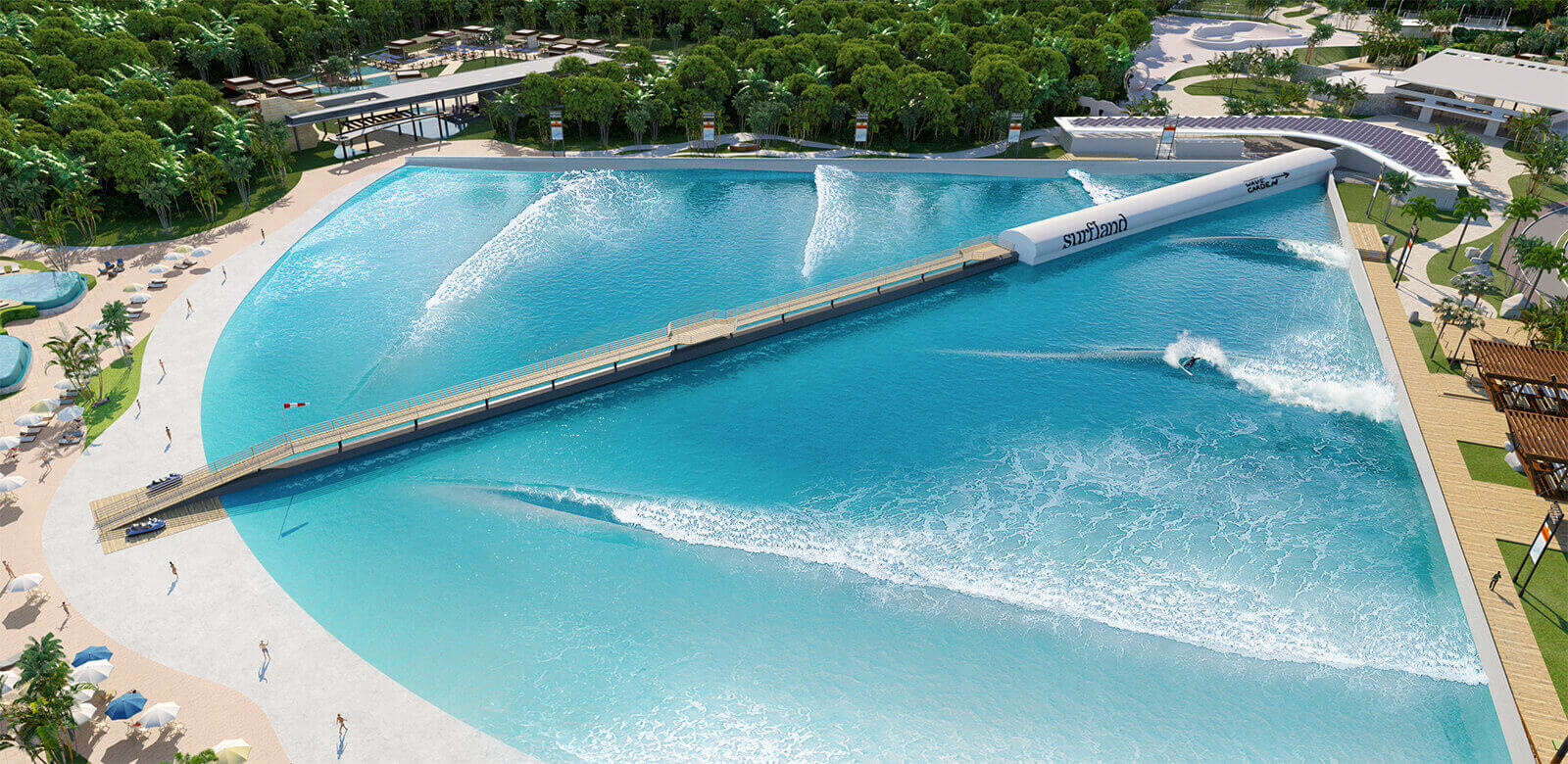 3D render of the proposed SURFLAND facility in Garopaba, Brazil, powered by Wavegarden.
The variety of wave pools should keep things pretty interesting, personally I wouldn't get bored of any of them. With a bit of cash there's a good chance you'll be able to try them all for yourself.