MIS:NUWAVR
MIS:NUWAVR
Nu Wavr
Product rating: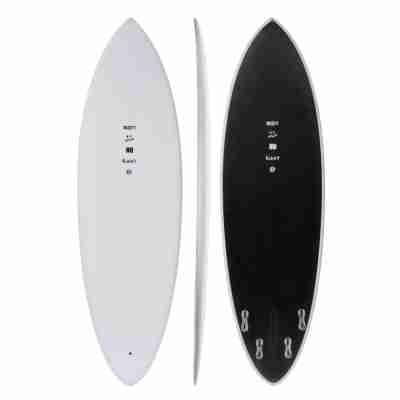 Nu Wavr
Misfit Shapes
5
out of
5
with
4
ratings
The NU WAVR is the new 'Single Fin-Multi' from Misfit Shapes. A modern take on a classic single fin with a quad setup making this board super versatile and dynamic. With a fuller nose and a classic pin tail you can draw smooth, flowing lines on this retrospective board model.
Check the details in each step to be sure you build the perfect board
SPECIFICATIONS
---
---
Rocker Info
The board has a flat but continuous rocker from nose to tail, giving it paddle ease, but again having the vee break away slightly from the stringer line through the tail, allows for fluent and flowing turns
Rail Info
The nose and tail of the board have subtle beaks to keep a little extra volume but the rails are medium/low, pulled down especially in the back third of the board to allow for hold and drive
Concave Info
subtle rolled vee through the entry flowing into a slight double concave and again vee exiting through the tail. This more modern combination gives the board a graceful rail-to-rail feel perfect for flowing highline pumps and big driving bottom turns.
from $

895
From
Safe Delivery Guarantee
Best Price Guarantee
Trusted by customers world wide
The NU WAVER is everything you dream about in a retrospective board – speed, grace, glide, flow but ultimately it is a single fin with multiple fin options designed by a progressive 'shortboard' shaper, so the board loves to turn, it can be pushed hard, its sits an amazing line in the barrel and it suits anyone who is looking for a classic single fin feel.
"You're reviewing
Nu Wavr
---
You Must be Logged in to Write a Review