MIS:DOPEMAC
MIS:DOPEMAC
Dope Machine
Designed as a high performance small wave model the Misfit Dope Machine has been refined for extra response. The Dope Machine comes from a collaboration with A Dead Coffin Club, drawing influence from a mini simmons, mixing its easy surfability with high performance elements. Resulting in a banging small wave machine. Ride 6-8 inches shorter and 1" wider and the same thickness as your traditional shortboard.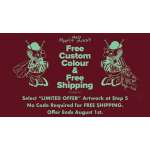 SPECIFICATIONS
---
---
Rocker Info
Slight entry rocker into flat for planing speed.
Rail Info
Medium rails with reduce rail volume for extra response.
Concave Info
Reverse vee through entry running down to a double concave vee around fin area and out through tail.
from $

850
From
High speed performance surfing, the Dope Machine is built to light up in your everyday average surf. With a pulled in nose and a narrower outline to the Sinister Kid. The Dope Machine has been slightly re-modeled, offering extra response and movability for critical surfing in the pocket.
"You're reviewing
Dope Machine
---
You Must be Logged in to Write a Review
Review by
Age: | Height:cm | Weight:kg | skill:
---
Shop This Model